Research Insights Archive
Our History of Research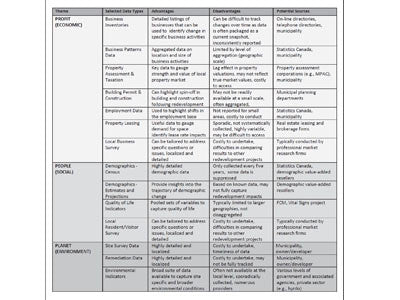 Brownfield Redevelopment and the Triple Bottom Line Approach
By Chuck Chakrapani and Dr. Tony Hernandez
The CSCA working in partnership with The Ontario Ministry of Municipal Affairs and Housing (MAH) and the Federation of Canadian Municipalities (FCM) adopted a case study Triple Bottom Line (TBL) approach to measuring and tracking the potential impacts of brownfield redevelopment. The TBL approach is geared to address three inter-related perspectives: economic (profits), social (people) and environmental (planet). This research letter reports summary findings from a study of three brownfield redevelopment sites in Ontario; namely: (i) Kaufman Lofts in Kitchener; (ii) Lybster Mill in St. Catharines; and, (iii) The Currents in Ottawa. This research letter focuses on Kaufman Lofts and Lybster Mill due to their retail and downtown focus. The main conclusion of the study is that brownfield redevelopment has discernible positive impacts on the site and on the surrounding community across a range of economic, social and environmental factors. Brownfield redevelopments generally result in increased tax revenue and perceived growth of business in the study areas. Residents as well as businesses in the study areas agreed that brownfield redevelopments also provide social and environmental benefits. The TBL approach when combined with geomatics provides a systematic mechanism for the holistic assessment of potential brownfield redevelopment impacts.
The authors would like to express a special thanks to Chris Thompson (MAH) and Jessica Mankowski (FCM) for their leadership, support and advice throughout the research process. We also acknowledge the support of our local municipal partners and developers that provided their insights and data to the project. Finally, thanks to the respective teams at MAH and FCM for coordinating the compilation of the various data sets used in this study
---
Share this
Other Related Articles......