Research Insights Archive
Our History of Research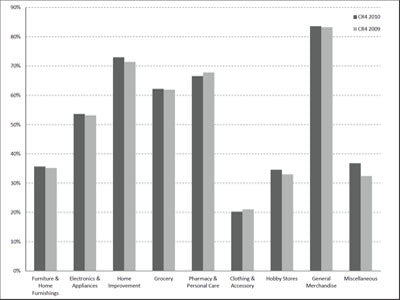 Canada's Leading Retailers - Latest Trends and Strategies: 10th Edition
By Christopher Daniel and Dr. Tony Hernandez
This report is the tenth edition of the CSCA's Canada's Leading Retailers, a series analyzing the growth strategies carried out by Canada's Leading Retailers for each fiscal year.  It addresses the reorganization of retail capital emerging from ongoing processes of consolidation and organic growth in Canada's Top 122 retail conglomerates. Although the popularity of the merger process as a corporate growth strategy reached its height in the 1990s and has since slowed, it continues to be an important component of Canada's retail economy.  In order to shed some light on the reorganization of retailing in Canada during fiscal 2010, this report will focus on three aspects of the country's leading retailers: their economic profiles, market concentration, and the major events in each of the major retail categories throughout the year.
The report is made possible by the CSCA's corporate data collection. The resulting data resource, the CSCA Corporate Database, provides unique insight into the locational strategies of major retail chains operating across Canada. Through the longitudinal collection of such data the CSCA will continue to monitor, track and report on the changes in Canadian corporate concentration and retail store segmentation.
---
Share this
Other Related Articles......