Research Insights Archive
Our History of Research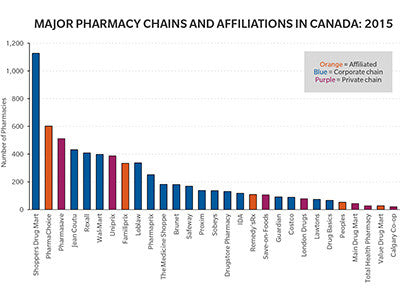 Corporate Concentration in the Canadian Retail Pharmacy Industry
By Dr. Maurice Yeates and Dr. Tony Hernandez
Read the latest research insight that focuses on Canada's increasingly concentrated Retail Pharmacy Industry. Our analysis outlines the structure of the industry, identifies the key player, and discusses the growing influence of major corporate chains in shaping the future of the industry.
Key Points
Over ten thousand pharmacies in Canada – one for every 3,500 Canadians

Retail pharmacy is the most highly regulated retail sector in Canada

Provincially legislated requirement for highly trained pharmacists to dispense drugs

Traditionally small pharmacist-owned businesses, now increasingly part of major retail conglomerates with diversified product offerings

Between 2010 to 2014, as the result of acquisitions, the three major conglomerates (Weston Group, Empire Co. Ltd and McKesson Corp.) increased their control of pharmacies in the country from 10% to 31%

Corporate chain ownership now dominates the industry
---
Share this
Other Related Articles......