Research Insights Archive
Our History of Research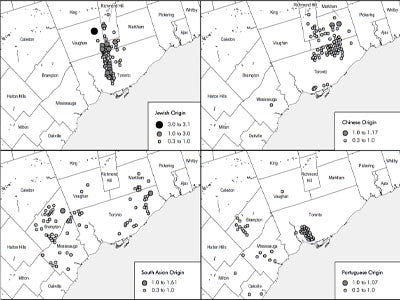 Ethnic Markets in the Greater Toronto Area
By Dr. Jim Simmons, Shizue Kamikihara and Dr. Tony Hernandez

The Toronto region includes one of the largest and most complex ethnic markets of any city in the developed world. About 45 per cent of the residents have come as immigrants from other countries, and there are more than 20 ethnic origin groups that have more than 100,000 members - including six groups with more than half a million. These groups are made up of Canadian residents with a similar origin, background and customs, who share an affinity for certain kinds of food, music and entertainment (including shopping); and may prefer living next to or talking to their compatriots in their own mother tongue. For many commercial sectors or firms or shopping locations, these ethnic groups have become the target markets.

This research report explores the magnitudes, locations and characteristics of these markets, expanding a long-term interest of the Centre for the Study of Commercial Activity (CSCA). During the last decade, for example, Shuguang Wang has published several papers that describe the expansion of Chinese retail activity within the region (Wang, 1999; Wang et al., forthcoming) and Cecilia Zhuang has written a case study analysis of the changing character of ethnic retailing for a small subset of established retail neighbourhoods in Toronto (Zhuang and Hernandez, 2009). This report reverses the question, to ask, "Which locations provide the best access to each ethnic group?" This study is based on the elaborate measures of ethnicity provided by Statistics Canada in the 2006 census tract data, supplemented by data from the Public Use Microfile (PUMF) that samples individual census questionnaires. The former permits us to map the spatial distributions of various ethnic communities, and the latter permit us to generate profiles of each group, including demographic and income characteristics, as well as the length of time spent in Canada. Finally, we use the Transportation for Tomorrow Survey of travel behaviour, a comprehensive survey sponsored by the Government of Ontario, the regional governments and the Toronto Transportation commission to explore the evolution of trade areas for ethnic groups. The results demonstrate the complexity of these markets: their magnitudes, spatial distributions and the market income that they represent. The findings also highlight the need for more detailed behavioural research to further develop understanding of the burgeoning ethnic consumer market within the Toronto region and across Canada.
---
Share this
Other Related Articles......